Visit and donation to the children of the Burj el-Shemali refugee camp in Tyre, south Lebanon
Also this year we went to the Association Najdeh's kindergarten in the refugee camp of Burj el-Shemali in Tyre, south Lebanon.
The kids are delightful and learn Arabic and English. The teachers and their coordinator are bright and really dedicated. They all make the most of a difficult situation. This is a fantastic place to see. On behalf of our donors and supporters, we left a donation of 2000 dollars. Thank you all!
The kids pay attention during an Arabic class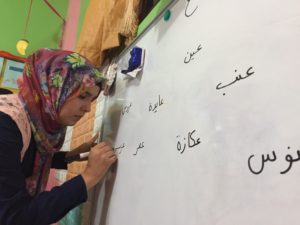 and learn geometry in Arabic and English, at age 4:
this old minubus takes them home
a view of the refugee camp, and some Lebanon Trust volunteers enjoying a meal on the street
the beautiful fishing port of the old city of Tyre