What is FAID?
A very special school in Lebanon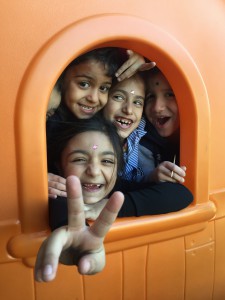 FAID – Father Andeweg Institute for the Deaf – is a private nonprofit institute with no political affiliations, founded by Dutch Pastor Father A.J. Andeweg in 1957. FAID has educated thousands of deaf children since its foundation.
The Institute is Christian but welcomes pupils of all the many faiths and sects of Lebanon. In fact, at the moment most children attending its school are Muslim – shiite, sunni – and Druze. The others are Christian.
In Lebanon education is not compulsory, and there is no free medical care. This means that in many cases children who are deaf – but otherwise like all other kids – would not be educated or helped in their deafness.
They would not learn how to speak or to understand others. Their fate would be an existence of extreme poverty and isolation, of begging, or worse.
FAID educates these children and, most importantly, teaches them to lip-read and to speak. In short, FAID gives them the chance to lead a normal life and to find a job to support themselves.
Currently about 60 children, aged 3-18, attend the school, with no distinction of social background. They are all deaf.
One-quarter of the children are now refugees from Syria. They have escaped a terrible war; many of them have lost years of schooling.
The school teaches the normal Lebanese curriculum (Arabic, English, maths, history, geography, etc) and lip-reading and speaking.
Children are collected from their homes in the morning and brought back after school, at no charge.
Full-board accommodation is provided to those children with a difficult family situation or who live far away from the school.
By far and large, children do not pay any tuition.
The total government's contribution covers less than 70% of the staff salaries – the school has to rely on charity donations for the all the other expenses – the rest of the salaries, medical care, electricity, heating, fuel, food, books, maintenance, insurance, … everything.
How Lebanon Trust supports FAID:
Lebanon Trust helps FAID financially, according to its needs. We help pay for the classroom's heating in winter (winters in Lebanon are cold!) and for the school bus, thus ensuring that kids can attend classes. Or we finance a speech therapist, who teaches the deaf children how to speak. More information on this page.
Every year Lebanon Trust's volunteers go to Lebanon and spend about two weeks at FAID, delivering the funds but also making practical maintenance work (as it saves FAID money) and spending time with the children.
For more about FAID, click here (external link).
Lost in Beirut while trying to reach FAID? Fear not.