A day at a refugee camp in Tyre, South Lebanon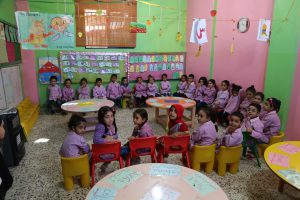 During our trip to Lebanon last month, we travelled to the refugee camp of Burj el-Shemali in Tyre, in the South of Lebanon. A permit granted in advance by the Lebanese Army is necessary to enter the camp. We went to see the local kindergarten run by the Association Najdeh, which hosts about 80 children, and which we support since 2012.
The kindergarten is spotless, very well maintained, and the classrooms brightly painted and decorated. The kids are a delight, full of chatter and laughter. The teachers are very motivated and full of initiatives. We played and chased soap bubbles with the children, talked with the teachers, and delivered a donation of 2000 dollars for teachers' training and operational expenses.