Lebanon Trust's 2018 results
(tablets and smartphones: best viewed in landscape mode)
Dear friends,
in October this year we went to Lebanon to visit the Institutions we support through your generosity: the Father Andeweg Institute for the Deaf (FAID), two kindergartens for refugees and the Home of Hope, for street and orphaned children.
For the 11th year in a row, we worked at FAID, where we  renovated the students' Computer Room and the Earmould Laboratory. Removing all the furniture and equipment, scraping and painting walls, windows, railings and doors, replacing the old carpet with a new one, moving the furniture back – we did it all over the course of several days and a weekend, in order not to disrupt the teaching schedule too much.
We also did painting and maintenance work on girls' dormitory playground that we built in 2016, and did a complete clearance of the overgrowth in the garden.
We donated FAID 8000 dollars to finance a speech therapist for their nearly 70 deaf pupils, ranging from kindergarten pupils to teenagers. Speech therapy teaches deaf people how to speak and lip-read, allowing them to communicate with the wider world and equipping them for a productive future.
This year our team got a great new addition: Emma, from Como in Italy, a tireless worker and always in good spirits. A perfect volunteer!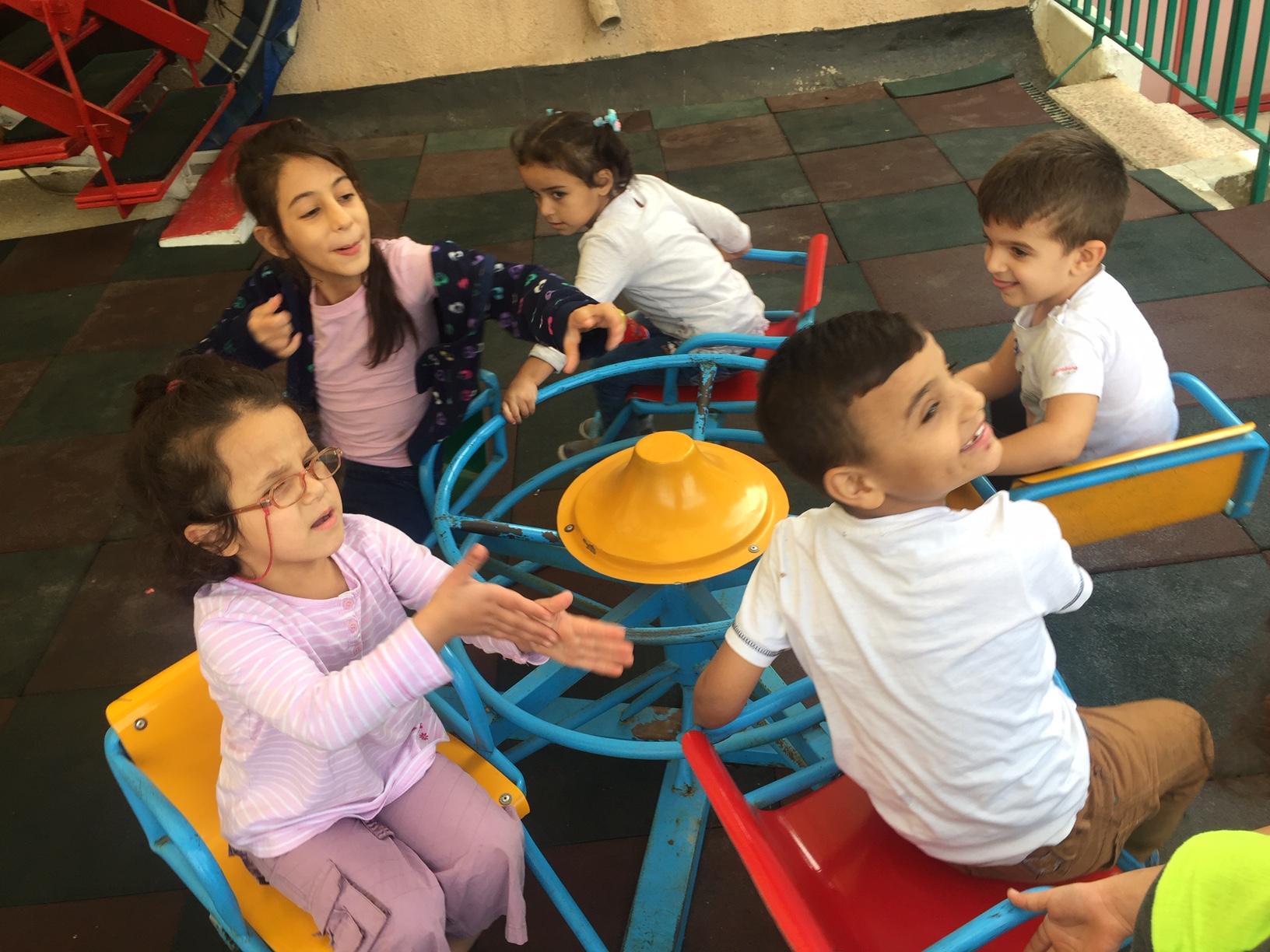 This year we returned to the Home of Hope, an instute that welcomes street children and children with no family. With their Education Director Brady, we visited their place, talked to many of the children and gave them a donation of 2000 dollars for their computer class, where they learn programming and robotics. We also gave them many footballs, donated by O'Neills sport in Dublin.
One day during our trip we went to visit the kindergarten of the refugee camp of Shatila, as we have been doing every year since 2011. We love this place – despite its really bleak surroundings (a dilapidated and overcrowded refugee camp), the kindergarten is full of joy, colours, laughter and songs. The teachers are all super-motvated and full of energy. The children, aged 3 to 5, learn to read and write in Arabic and English. The classrooms are full of drawings; we added great clouds of soap bubbles, which the children adore.
On behalf of our donors, we gave the kindergarten's director Mariam a donation of USD 2000 towards the purchase of books and material for those children whose families cannot afford them. Thank you friends and supporters!

One of our regular appointments when we are in Lebanon is the visit to the kindergarten of the refugee camp di Burj el-Shemali, in the historic city of Tyre, in the south of the country. We very much look forward to this, every time. It is a great day that we spend with the children and the teachers. They are all very warm and welcoming, always enthusiastic, motivated and full of ideas and projects.
We all sang songs in English, blew soap bubbles, ate sweets and made a lot of noise. On behalf of our supporters, we left a much-needed donation of 2000 dollars in support of the kindergarten's activities. After the children left, the teachers surprised us with a huge Palestinian lunch, which was really delicious! Thank you!
Finances
Income: Donations to Lebanon Trust (Euro)
| | |
| --- | --- |
| Fundraising events | 3'589.61 |
| Private donations, collection boxes, sponsorship cards | 10'658.50 |
| Corporate sponsorships | 1'170.19 |
| Total | 15'418.30 |
(Year close Nov 30, 2018; EUR/USD/CHF currency exchange rate: as applied by our bank in Ireland)

Expenditure: Donations to the supported institutions, expenses (Euro)
| | |
| --- | --- |
| Web hosting & domains, Paypal/banking commissions | 121.15 |
| Hardware & materials, transport, logistics, local labour | 1795.23 |
| Donation to FAID | 7'120.00 |
| Donation to the Home of Hope | 1'780.00 |
| Donation to Shatila refugee kindergarten | 1'780.00 |
| Donation to Burj el Shemali refugee kindergarten | 1'780.00 |
| Total | 14'376.38 |
| Difference | 1'041.92 |
Accommodation was kindly provided by FAID for free. Most volunteers took unpaid leave from their employers.
Fundraising events organised by the volunteers over the year: Christmas swim, street collections, weekly raffles, cake sales, quiz night, birthday parties, virtual flea market, bucket collections.
Our special thanks to these friends, who helped us this year:
All the employees of Symantec Corporation in Dublin, and in particular the following friends:

Mick Halpin
Amanda Davis
David Tryse
Jayne Delahunt
Julie Weber
Louise Hanlon
Stephanie Derwojed
Wolfram Rausch

Jung Y. Yang e Stephen King, Silicon Valley Community Foundation
Paul Velaski, Chief Operating Officer & Chief Financial Officer, Silicon Valley Community Foundation
Jaime Barclay, Symantec Corporation
Davide Keane (Dublin)
Elaine Curley (Dublin)
Kathleen Halpin (Dublin)
Kieran Mc Loughlin & GK Nets of Howth
O'Neills Irish International Sports Company Ltd. (Dublin)
Dolphin Furniture Sales Ltd. (Dublin)
Staff, Committee and customers at St Peregrines GAA Club, Blanchardstown (Dublin)
Mountview Pharmacy (Dublin)
Cut N Style Mountview Hairdressers (Dublin)
Salmons Public House, Mountview (Dublin)
Caroline, of EUROSPAR Hartstown (Dublin)
Big Mick & all the lads in Farleng engineering (Dublin)
Farleng Engineering (Dublin)
Pat Stafford of Stafford Engineering (Dublin)
All the lads on the John Paul construction site on the River Liffey (Dublin)
The very generous people of St. Peter's Crescent and St Peter's Drive, Walkinstown (Dublin)
All the staff & workers at the Diageo site at the Old Power Station in St James Gate (Dublin)
Walls Engineering, Carlow, Ireland
Griffin Digital Print (Dublin)
McCormack's Cycle Centre (Dublin)
Eddy McHugh's Shop (Dublin)
Paul Reid Dental Laboratories (Dublin)
Kelly's Welding & Engineering Supplies Ltd (Dublin)
Gerard Kelly (Dublin)
Brenden Lilliput stores (Dublin)
and the many people who sponsored Paul Horace on the sponsor card, and the people he met while working on a wall building site in Dublin
British Airways
Air Lingus
Germania Airlines
Advanced Car Rental (Beirut)
Maria Pia Porta (Genova, Italy)

Martina Merkle (Zurich, CH)
Catherine & Adrian Poeydomenge-Ruf (Zurich, CH)
Patricia Meade (USA)
Cristina Ovas (UK)
Maria Chong (Messico)
Chaithra Vishnu (India)
Donel Flaherty (Tralee)
Adrian Kelly (Tralee)
Eddie McCarthy (Caherslee, Tralee)
Anthony Slattery & family (Listellick, Tralee)
Samantha Morressy of Bar One (Tralee)
Kiernan Donnehy (Tralee)
Dave, Aisling, Alex (Tralee)
Stacey Conway (Tralee)
Karen O'Brien (Tralee)
Francis Burke (Tralee)
Ed O'Connor (Tralee)
Dominick O'Brian (Tralee)
Pat Conway (Tralee)
Anto Carrol (Tralee)
Mike Conway, Jr (Tralee)
Adam Conway (Tralee)
Clodagh Lynch (Tralee)
Pat Francis Roche & family (Tralee)
Tommy Naughton (Tralee)
All street collectors in Tralee
Tim O'Brien (Tralee)
Sean P. Moran
Noel O'Connor, Adams garage (Tralee)
Sean Lynch (Tralee)
Sean McCord, Aqua Dome (Tralee)
Brogue Inn Restaurant (Tralee)
Niall Nolan of Nolan's Garage (Tralee)
Ann Miller (Tralee)
Chelsey Conway (Tralee)
Billy Nolan Jewellers (Tralee)
Mike & Jordan Shea (Tralee)
Aidan Teahan (Tralee)
Pamela & Keith Costello (Tralee)
Maria Cristina Ferraro (Genova, Italy)
Alessandro Bertolotto (Genova, Italy)
Ole Vossnack (Zurich, CH)
Famiglia Vigna-Mori (Savona, Italy)
Carla & Natale Ferraro (Genova, Italy)
Checco Devia & famiglia (Genova, Italy)
Elena Prola-Smith & famiglia (Londra)
Enrico & Lilli Bertolotto (Genova, Italy)
Family Delfante-Cocurullo (Genova, Italy)
Family Parodi (Genova, Italy)
Family Fasciolo (Arquata Scrivia, Italy)
Giovanna Pellegrini & family (Genova, Italy)
Family Zappavigna (Marina di Massa, Italy)
Family Aquini (Arquata Scrivia, Italy)
Nino & Milda Cocurullo (Genova, Italy)
Family Della Penna (Genova, Italy)
Family Renato Ricci (Arquata Scrivia, Italy)
Silvana Falaschini, Giorgio Margotti (Livorno, Italy)